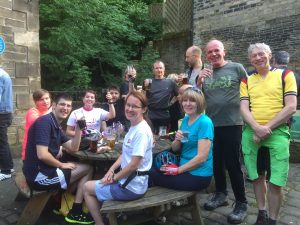 Many a good idea begins in a pub, over a pint. And so it was, in October 2013, a couple of our founder members met and decided to form a specialist cycling club, dedicated to providing tandem riding for blind and visually impaired cyclists.
Tandem Trekkers was established shortly thereafter.
For the first four years, the group was a project run under the umbrella of KVIN (Kirklees Visual Impairment Network). But, as more and more riders joined us, the need to become an independently constituted club became increasingly apparent. And when those lovely people at Healthbloom approved our application for grant funding, we successfully applied to the Charity Commission and became a registered charity in our own right. That was in October 2017. (Registered Charity Number 1175326).
Our core membership today numbers some 40 riders and we warmly welcome new pilots and stokers. We manage our own fleet of 15-20 tandems which is boosted by the fact that several of our members ride their own bikes.
If you're interested in coming along to one of our sessions, or would simply like to find out more about us, please don't hesitate to get in touch.
We really would be delighted to hear from you…..